What movie comes immediately to mind when you hear the word "mermaid"? Presumably (if you're old enough) you think of "Splash," the 1984 movie with Tom Hanks as Allen ("All my life I've been waiting for someone and when I find her, she's… she's a fish.")  and Daryl Hannah as Madison, his love-interest mermaid. Well, that's pretty much how my new BFF acquired her name. A while back, an American teacher proposed the name, explaining its origin. For those forgot or never saw the movie, Madison acquires her name from a Madison Ave street sign in NYC, as her fish name, when spoken, shatters glass (Don't you hate names that do that?). She liked the idea and Madison, the English student at EF was born. A couple of weeks ago, I showed her the movie of her namesake, so the circle is complete, so to speak. Oh, yes, about the "maidmers." I've dated a few in my life. You know the type; body of a woman, head of a fish. Ba-dum! I've waited over thirty years to use that line. (h/t: Herb Caen)
I know more about Madison than any other person here. Her real name is Zhang Qianying. You may not know it but Chinese first names are actually the family name. Weird, right? Well, keep in mind, the Brits drive on the wrong side of the road, Arabic is read backward (fitting) and Donald Trump might be the next president of the United States. But I digress. So her last name is Zhang. Her first name is Qianying. The "qi" is pronounced (more or less) as a "ch" sound. So, if I wanted to annoy her, I could call her, phonetically, Chian-ying, no doubt utterly mangling the pronunciation. I'll stick with "Madison."
Anyhoo, she works at International Game Technology (IGT) which is a British based company that among other things, makes slot machines. When I was a stockbroker, I used to follow the stock in the 1990's for a client who was a real heavy-hitter in gaming related stocks. I visited him once at his home in…wait for it…Las Vegas. His living room was replete with wall to wall TV's hooked up to the internet to follow the stock action or to follow sports games he bet on, I kid you not. And that was in the era of CRT TV's. I will never forget the sight of so many big box TV's aggregated in one room, most hanging from the ceiling.We're talking a few dozen, folks. He also drove an original Hummer. I will also never forget driving down Las Vegas Blvd. in this behemoth that seemed to hog two lanes. It's really not the type of vehicle suitable for the wall to wall traffic of The Strip. I kept waiting for him to sideswipe cars with this battleship on wheels. He didn't. Having said that, he was most definitely, in the words of Larry David, a "pig-parker" (last episode, season 8) wherever he parked this monstrosity. But once again, I digress.
I spent time with Madison throughout the summer as she was within the circle of EF students who would hang out with some of the teachers who would get together for drinks or dinner, as a group, after work. Not that I'm a big time social butterfly, as anyone who knows me, is well aware. Still, I can be sociable on occasion. I only recently discovered that Madison lives one stop away from the subway that's one block from my home. Well, that was all I needed to know to anoint her my new BFF. Recently, she had two weeks in a row when her office was closed on Thursday and Friday which are my days off. So together, we traveled near and far. Once more, I was able to do things and go places that would have been difficult to negotiate on my own.
With Madison in tow, I was finally able to dine at an outlet of one of the so-called best Peking duck restaurants in Beijing, Quanjude. Trust me when I say that you can't possibly pronounce the name correctly by simply looking at the Pinyin spelling ("kwanjude", right? Not even close!) Something to do with "tones."
I've had plenty of Peking duck in the more than five months I've been here but up until now haven't been been particularly swept away to the degree I have been hoping for and expecting, based on reading stories of fabled duck dinners. So I felt compelled to dine in one of the best restaurants whose specialty is roast duck to see if I have missed something. I can, at long last, report what I've suspected all along. Roast duck, a la Peking style, is simply overrated in my humble opinion. The flavor of duck is one dimensional, to me, at least. Even, as you can see, from the photos, eaten according to how it's "supposed" to be: put into pancakes with hoisin sauce with fresh herbs. It's nothing special as far as I'm concerned. A good, chicken marsala is vastly more interesting and flavorful, if you ask me. Still, eating at a high end restaurant, dining on a classic dish, with drinks and the bill coming to about 300 RMB ($45.00) is certainly noteworthy. As I told Madison, if we were to eat at any number of well-known SF eateries, ordering a signature dish along with drinks, the bill would be more like 1000 RMB, if not more. As noted in this blog previously, one dinner, NOT including drinks (one dinner!) at the French Laundry in Napa is over 2000 RMB AND, gentlemen, you better show up, wearing a tie!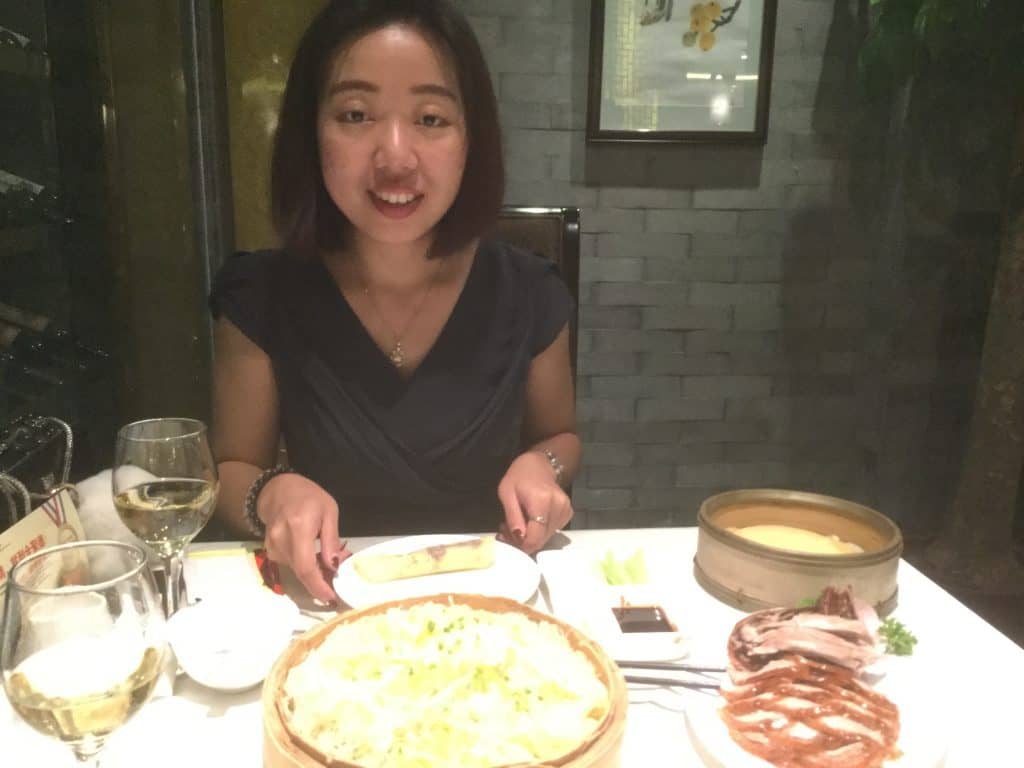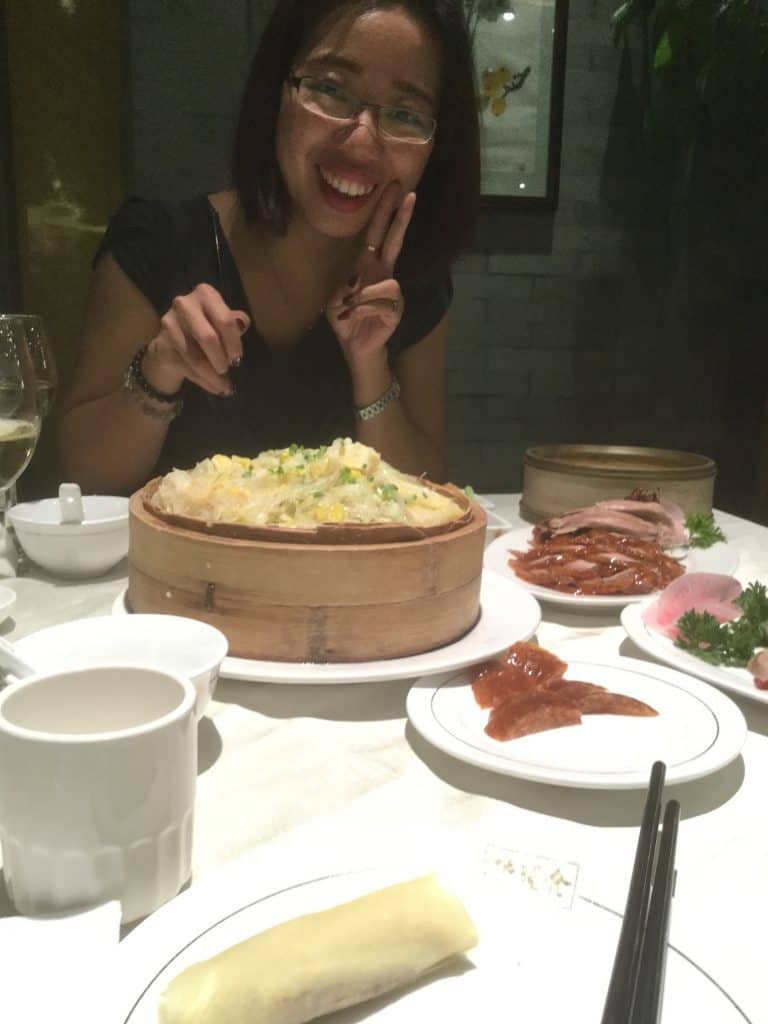 When Madison stayed over (in the guest room, of course) I introduced her to "Curb Your Enthusiasm," Broad City," "Extras", "Family Guy" and "The Office." Humor is so idiomatic, it's difficult to know what any non-American thinks about shows that are, in fact, idiomatic even if you're an American. Plenty of Americans don't get "Curb." Still, like Belle, Madison appeared to enjoy the fare. She also mentioned that she was interested in watching 1980's movies. So I thought she'd enjoy the "Back to the Future" trilogy. By coincidence, IGT has made "Back to the Future" themed slot machines. So, when I elected to show Madison the three BTTF episodes, she really got a kick out of it because she sees the posters of BTTF at work.
It  was a real hoot watching all three BTTF episodes. I actually never saw episode two other than bits and pieces, so it was quite enjoyable for me too. The humor still holds up even though it pokes fun at the 1980's. Afterwards, I showed Madison the aforementioned episode of "Curb Your Enthusiasm" entitled "Larry vs. Michael J. Fox" where Larry ends up in NYC as a downstairs neighbor of Fox. The entire episode makes fun of his Parkinson's affliction in the way that only Larry David can get away with. Best line: MJF to Larry: "I'll be back in two shakes."
As I mentioned, Madison had two weeks back to back of having Thursday and Friday off, which are my weekend days. So on one of those days, we went to Hou Hai for the day. With her help, we rented a paddle boat. I brought my bluetooth speaker and we rocked out while boating, to Taylor Swift's "1989" which she knew as well as I did, while downing Tsing Tao's because, it was, after all, "beer-o-clock." Am I really 59? I would like to think it's difficult to tell. Then I look in the mirror. "Sigh!"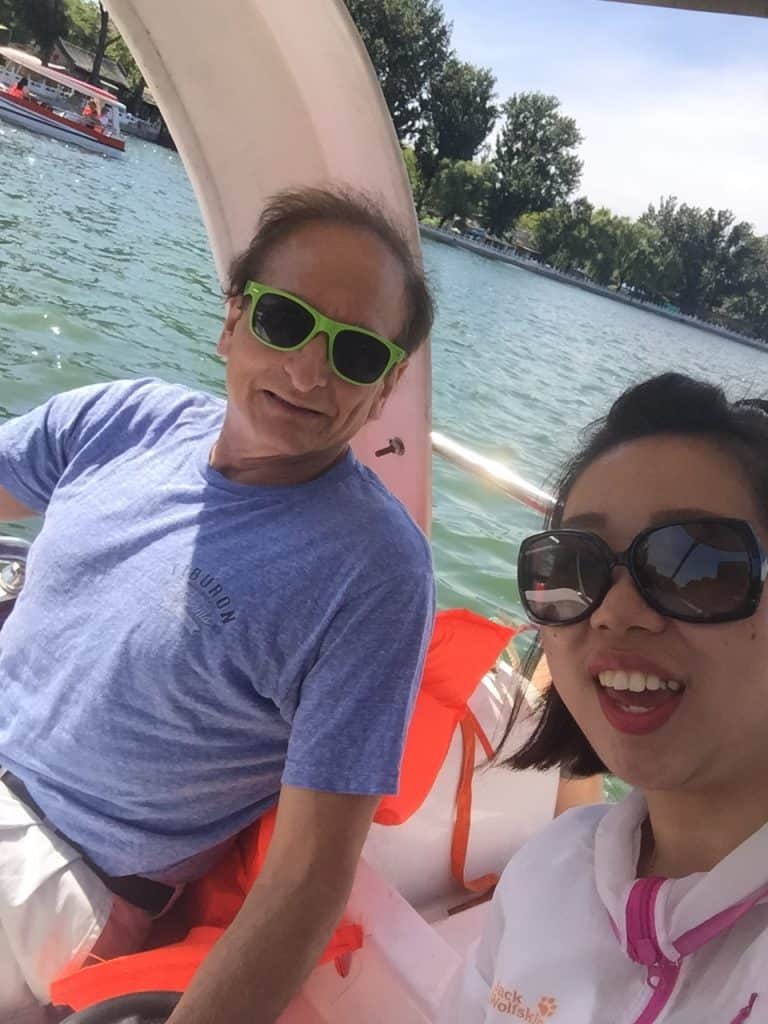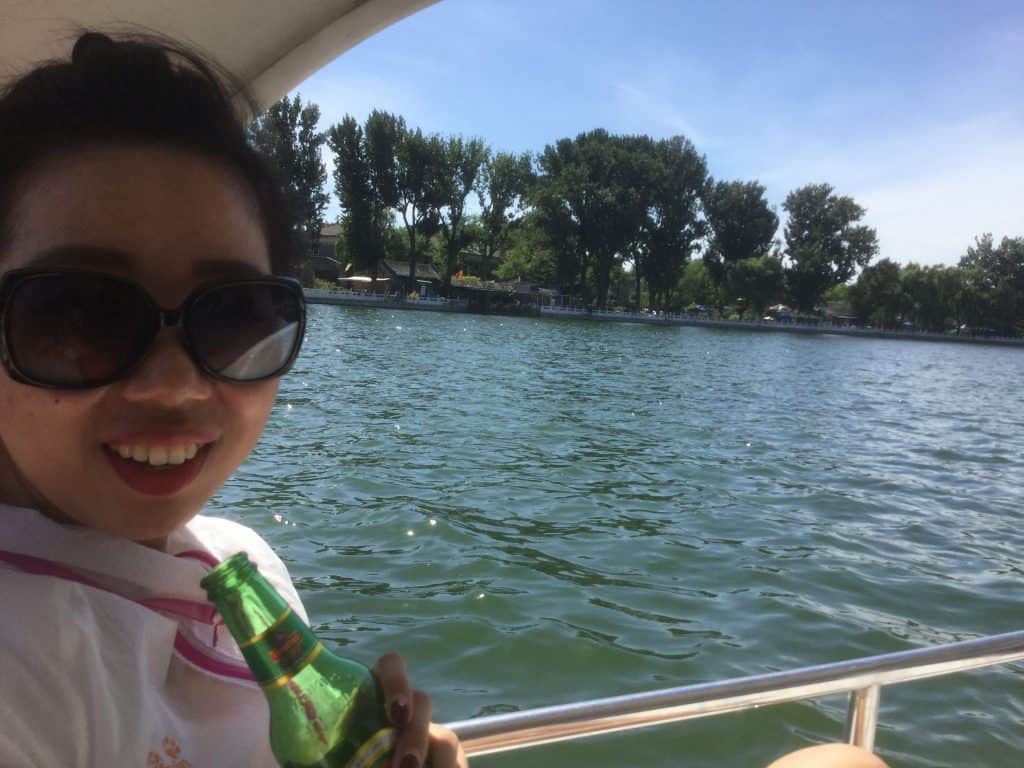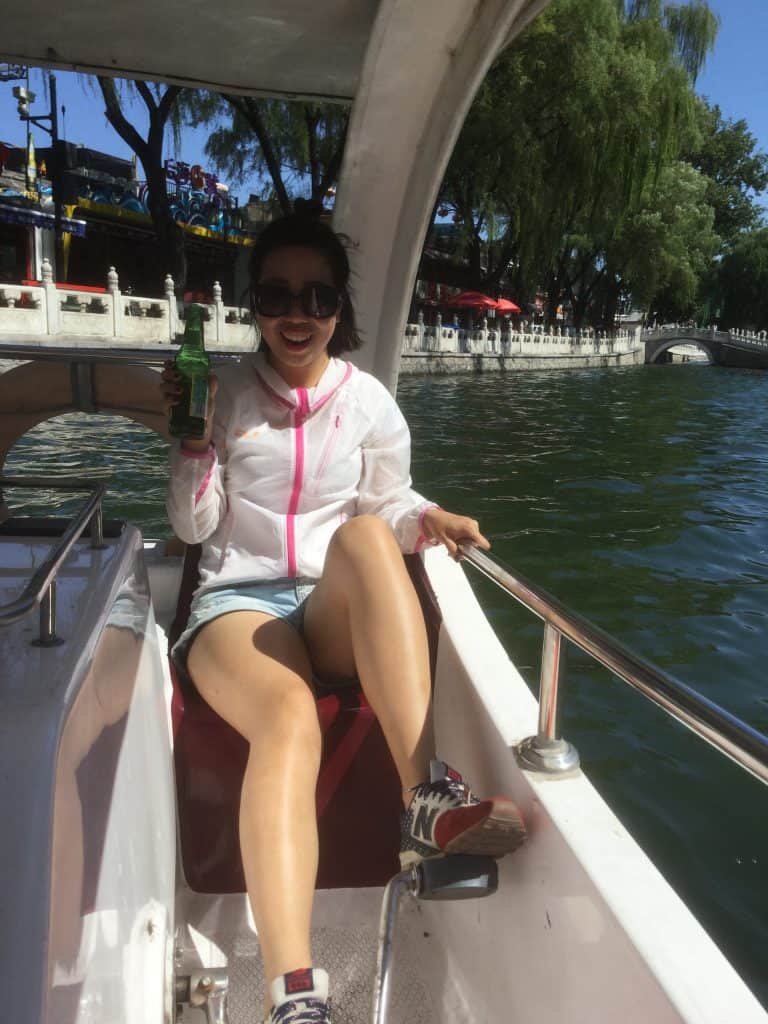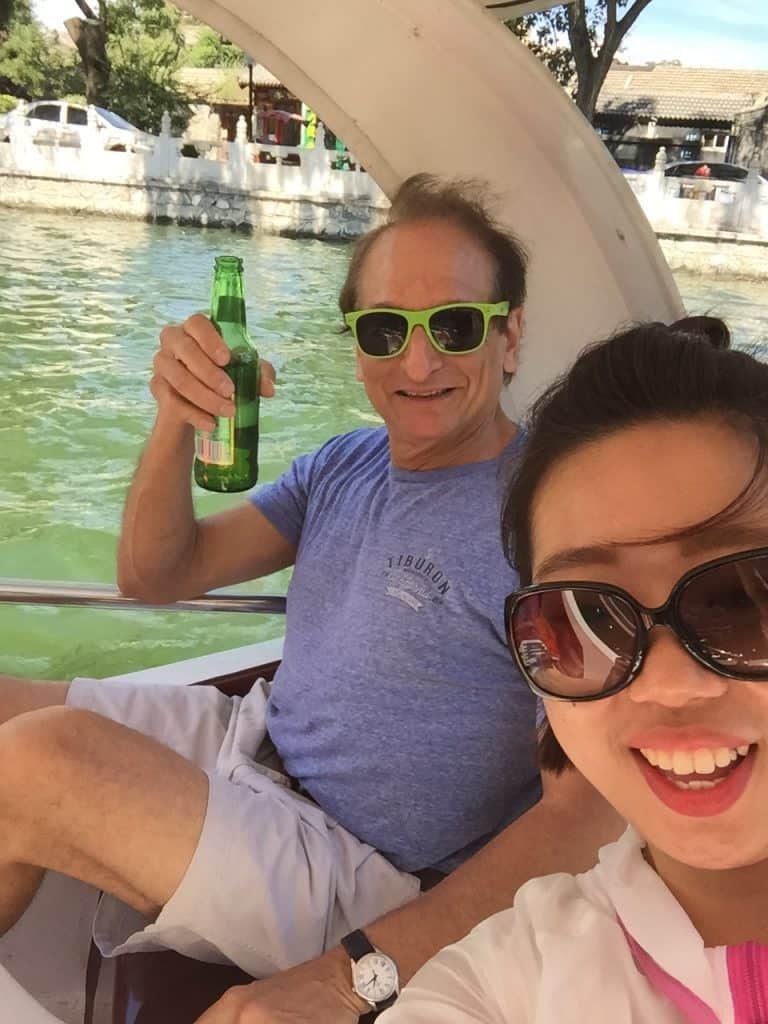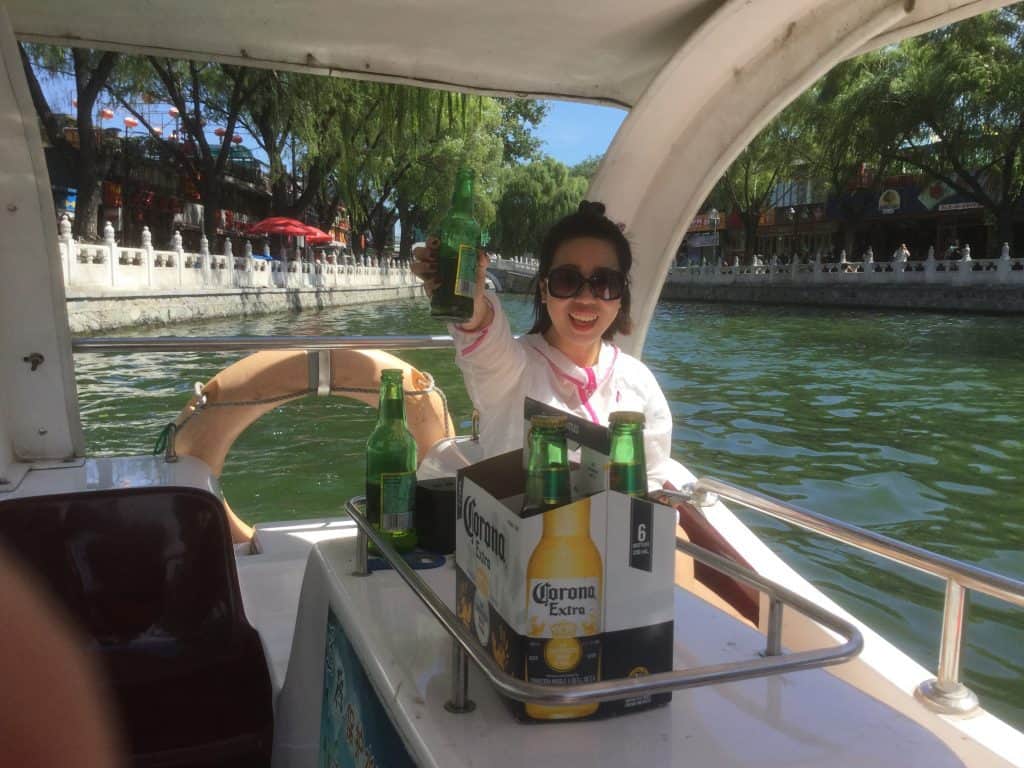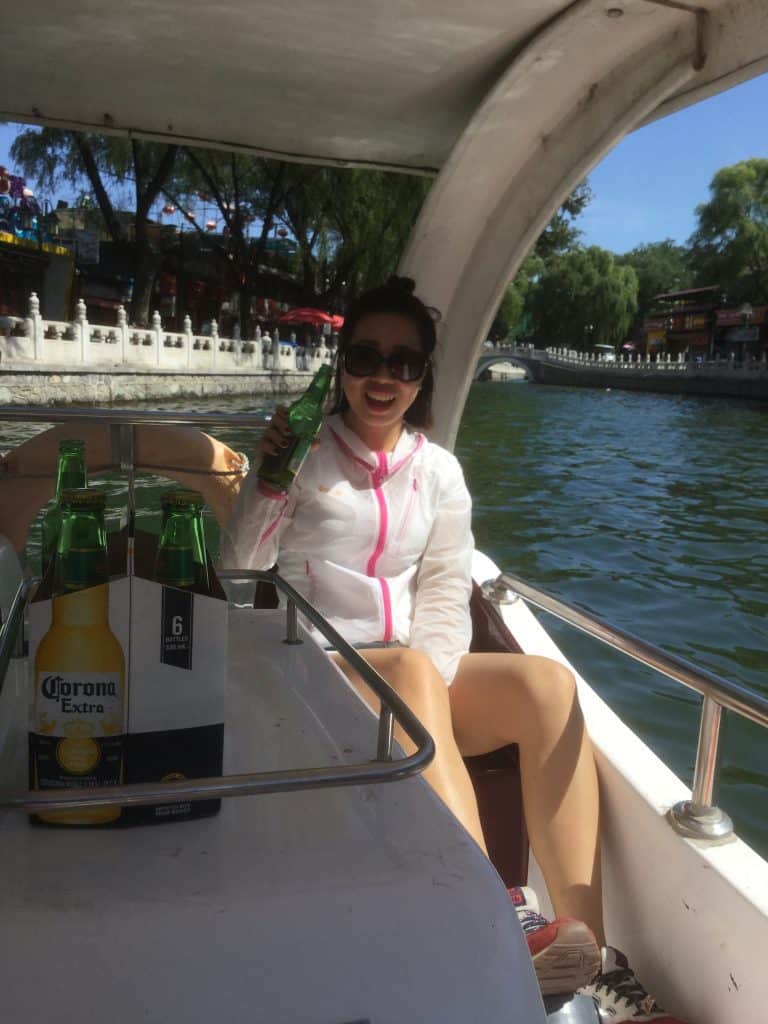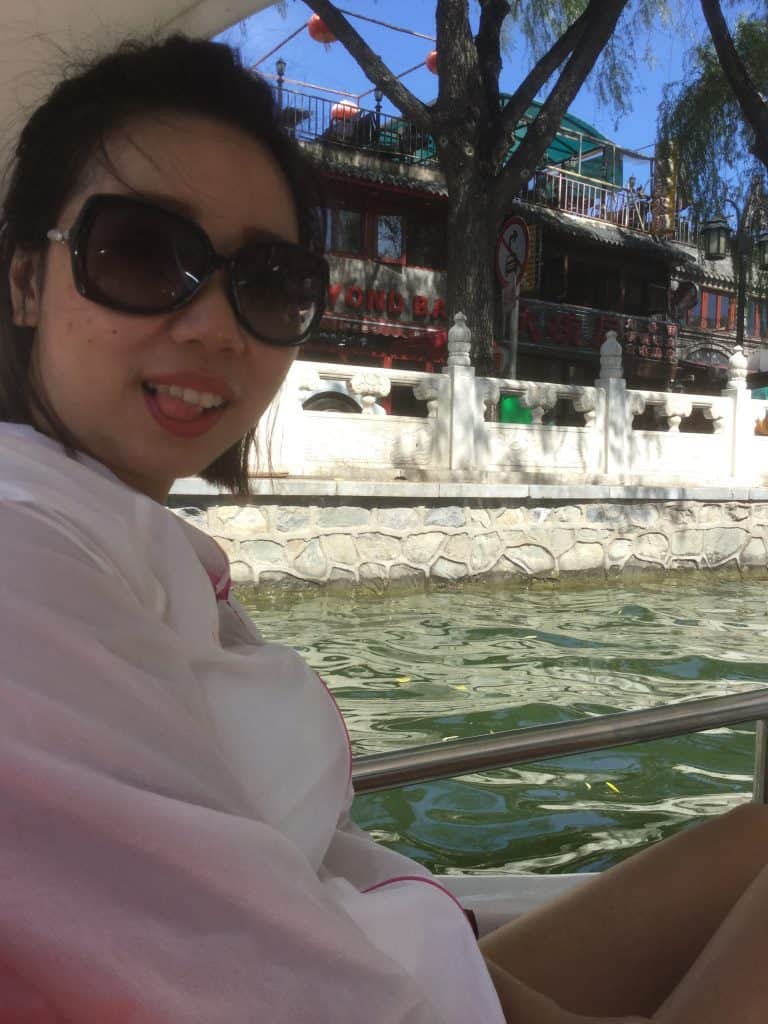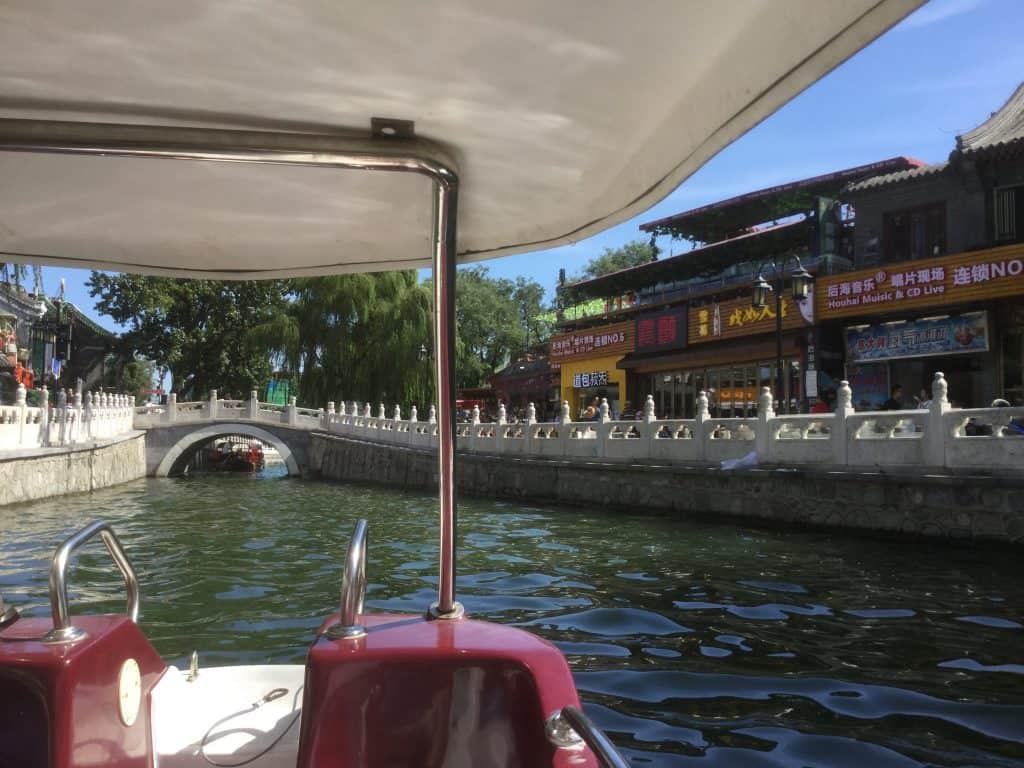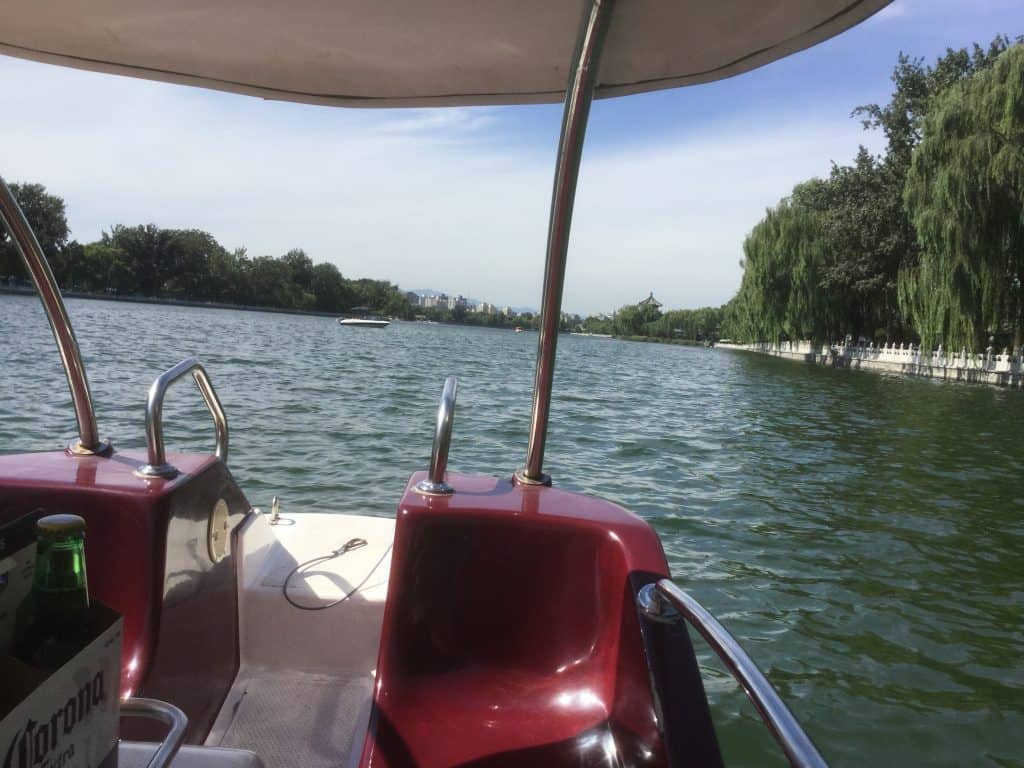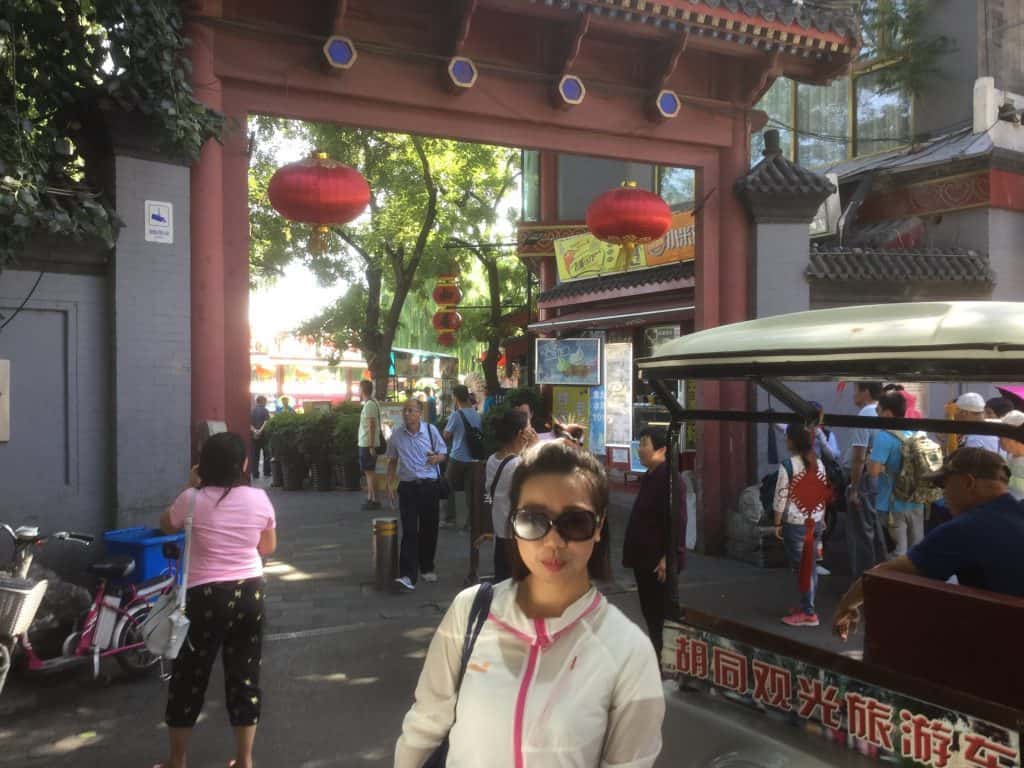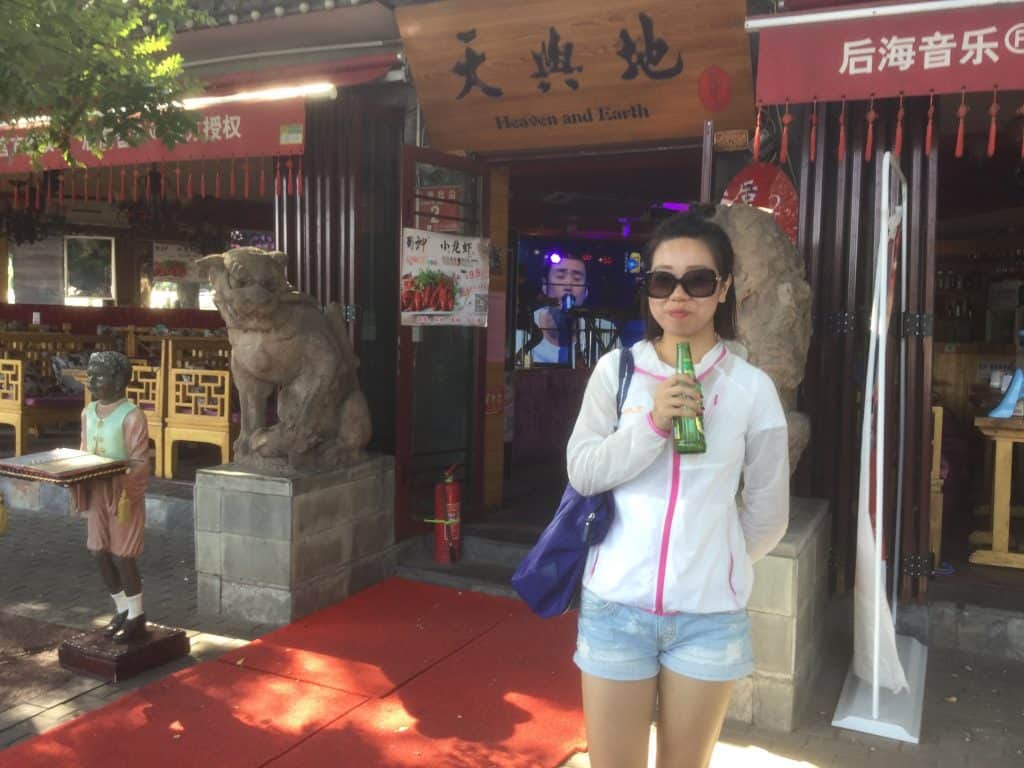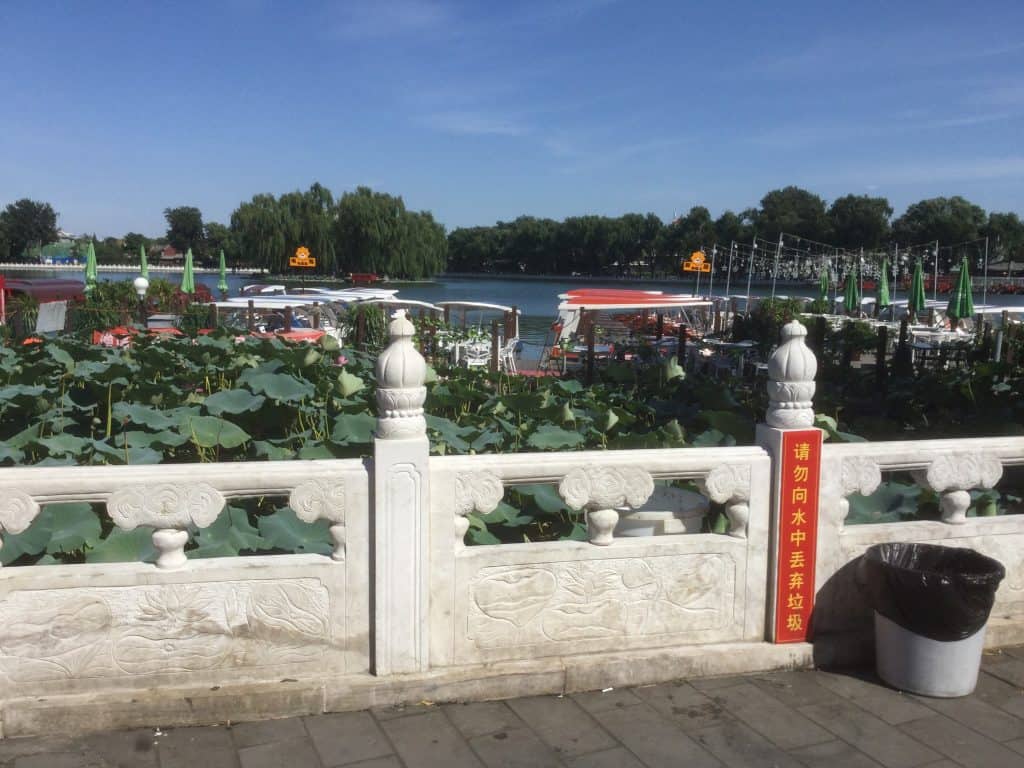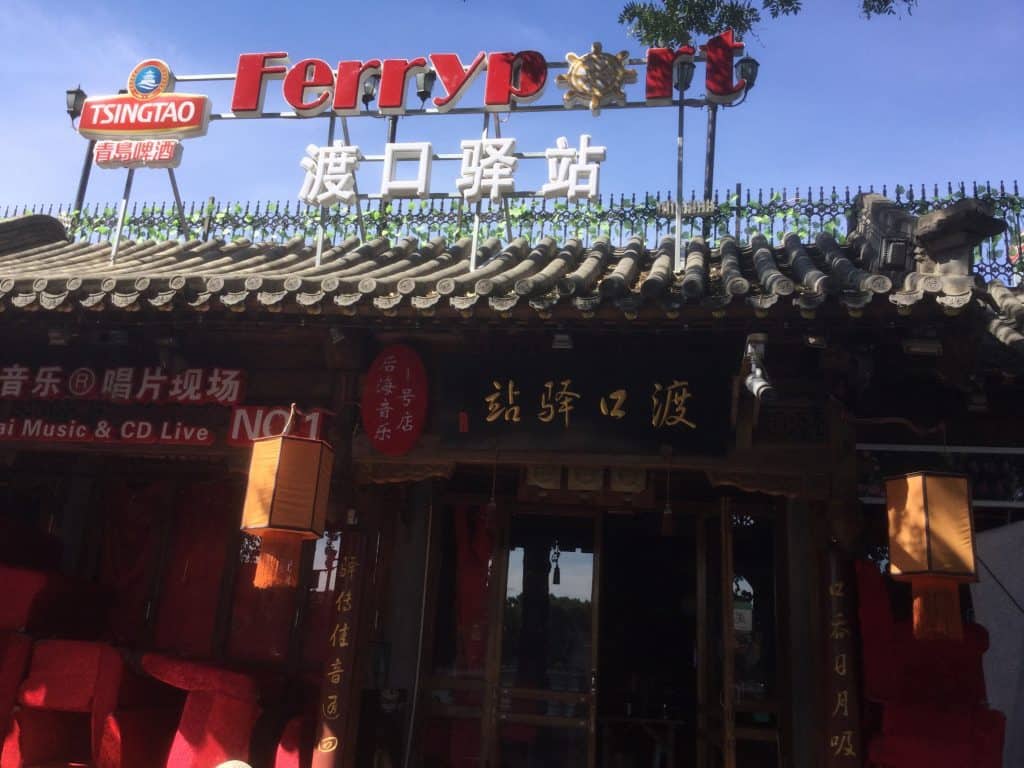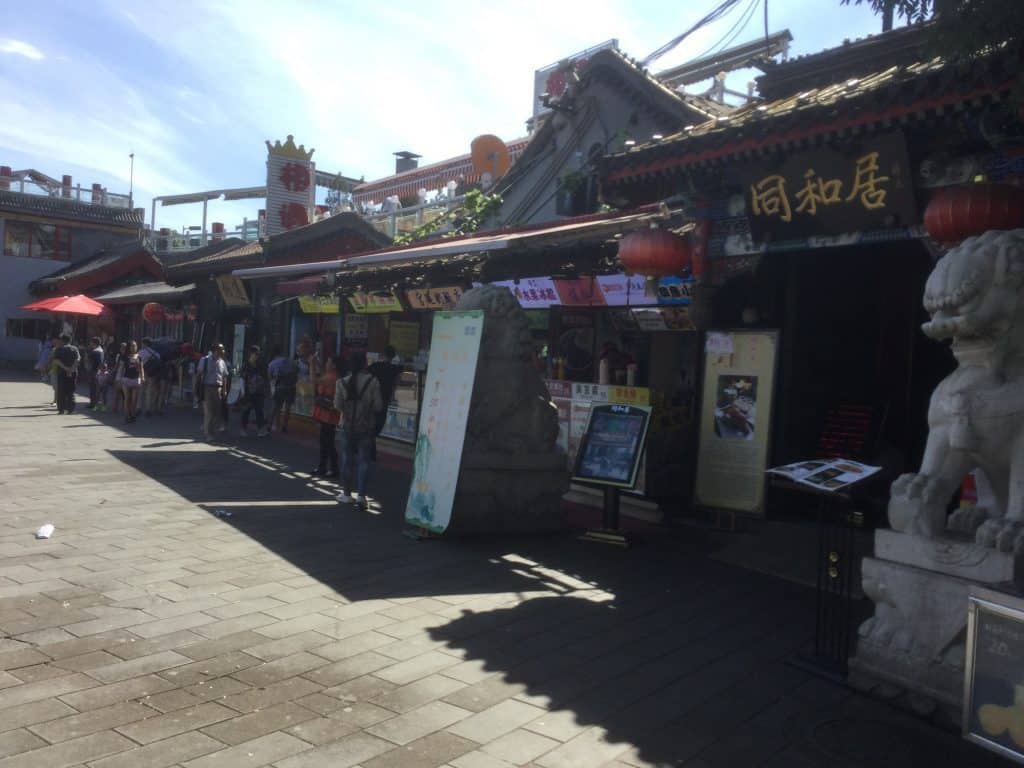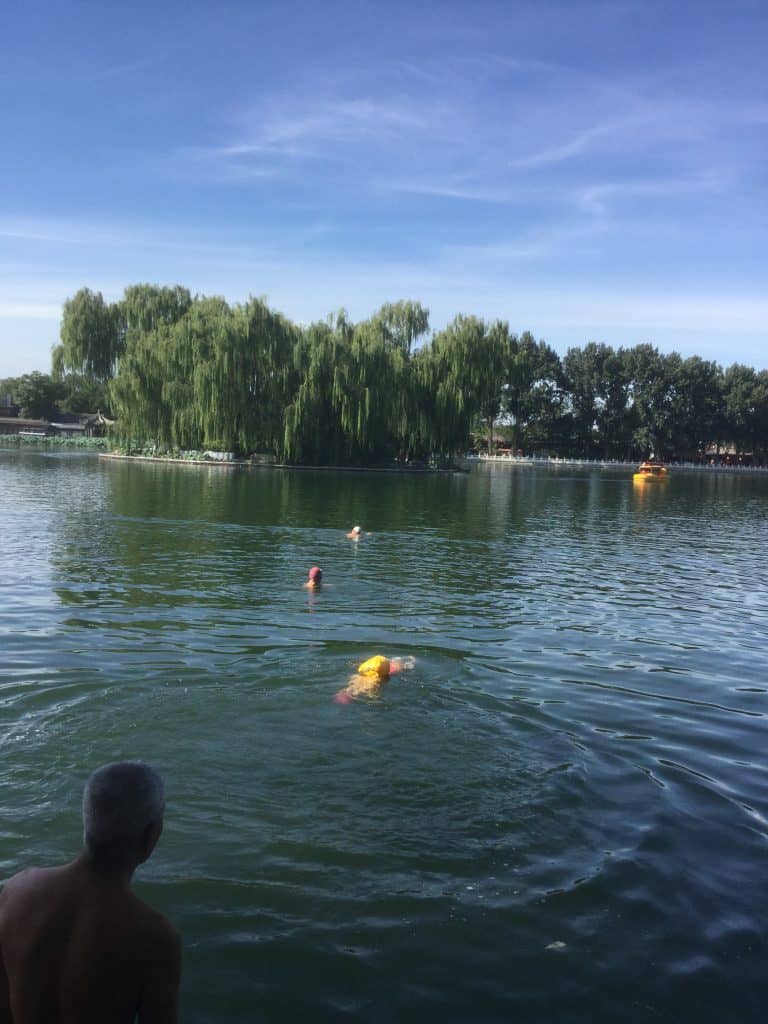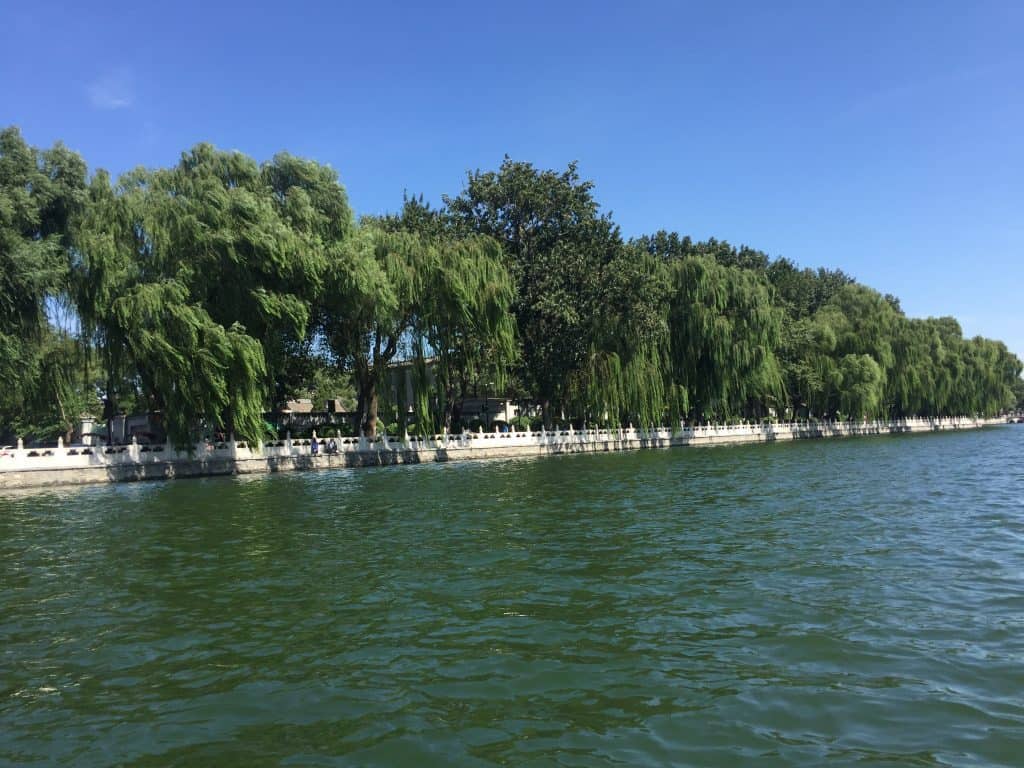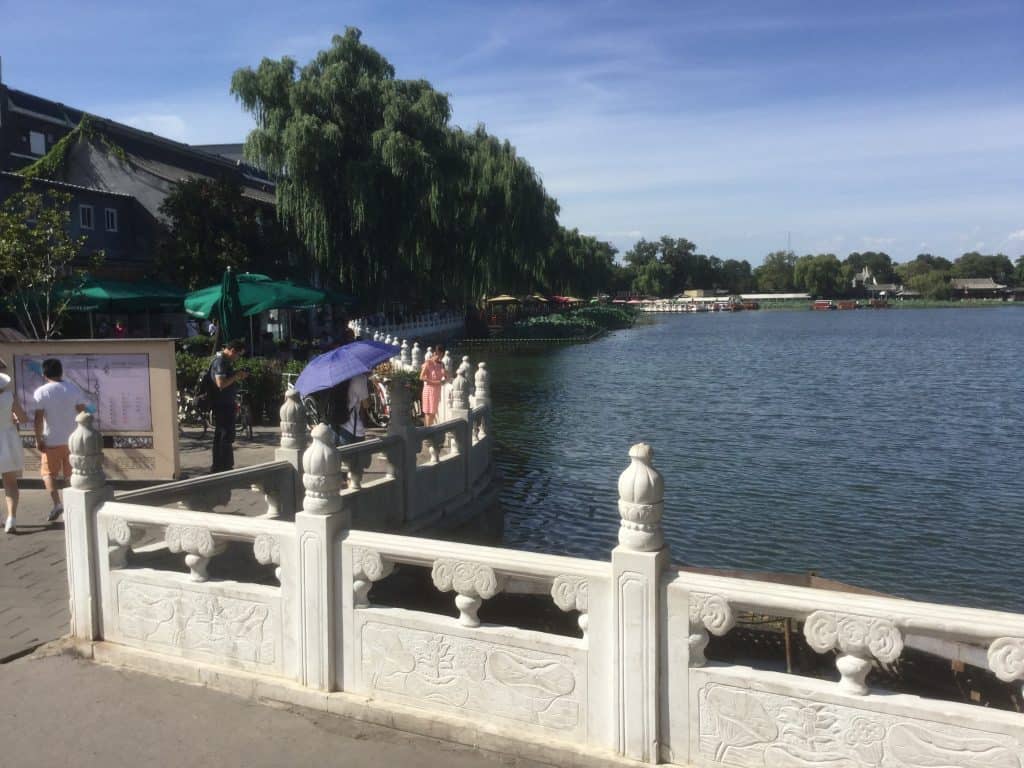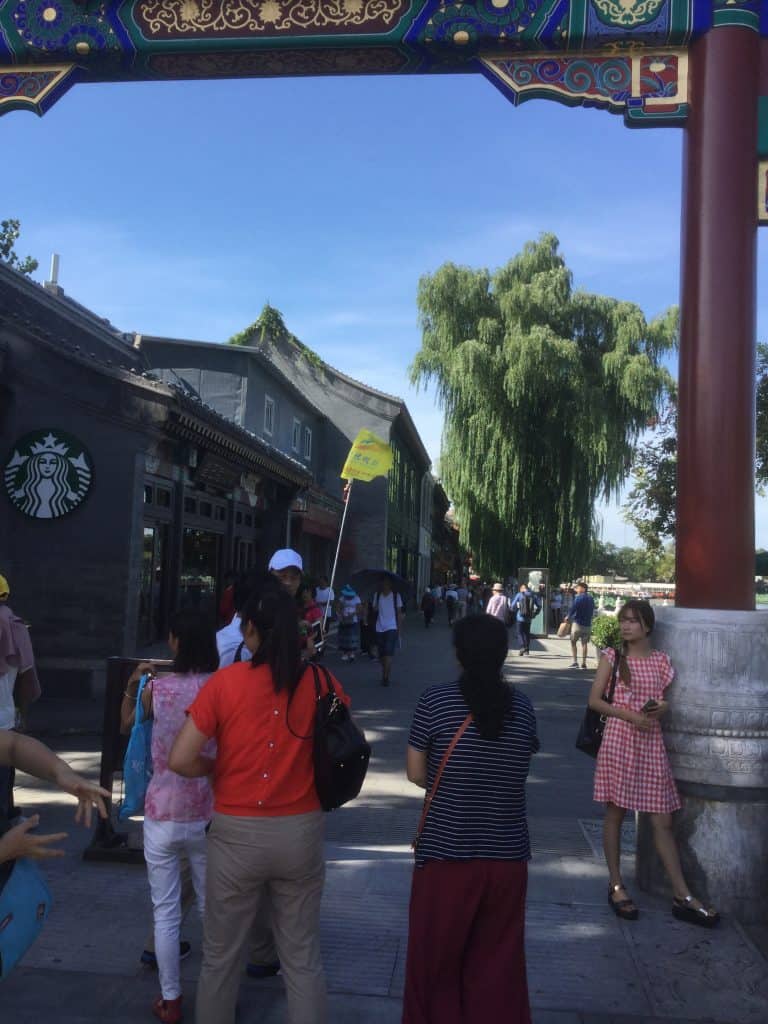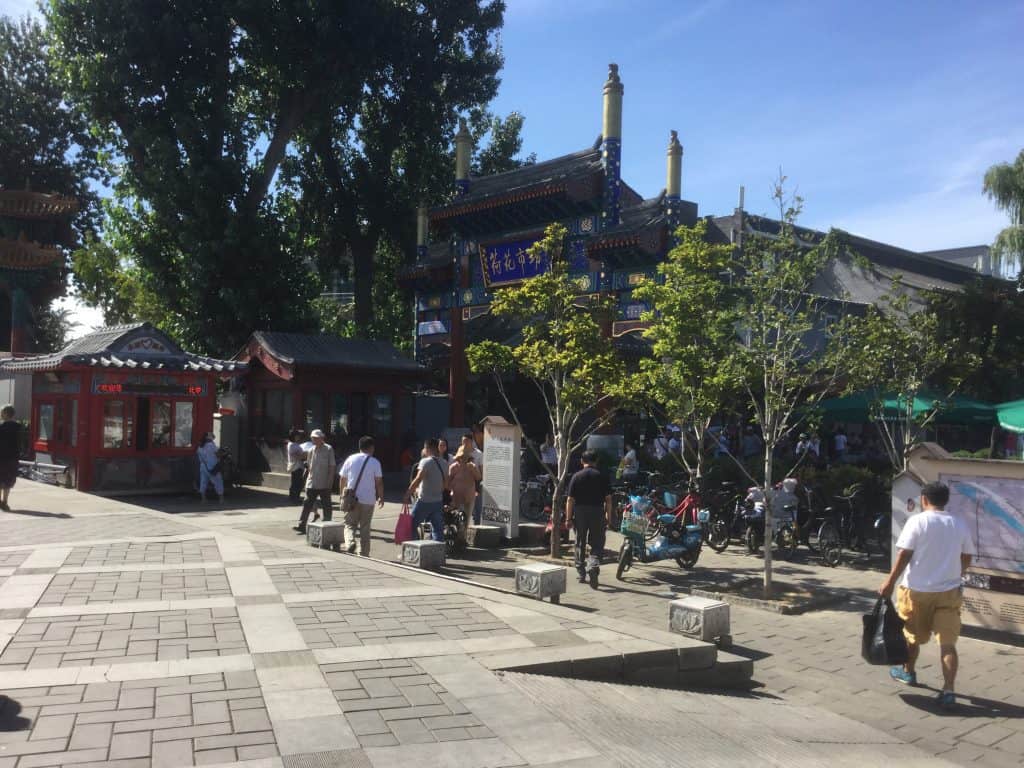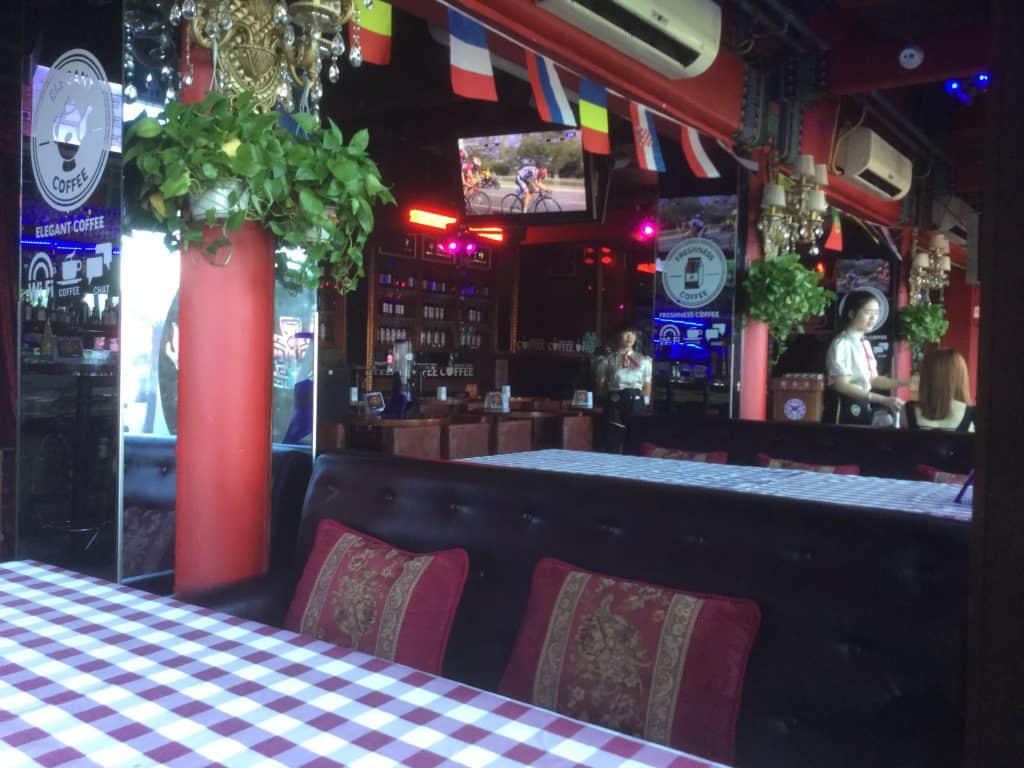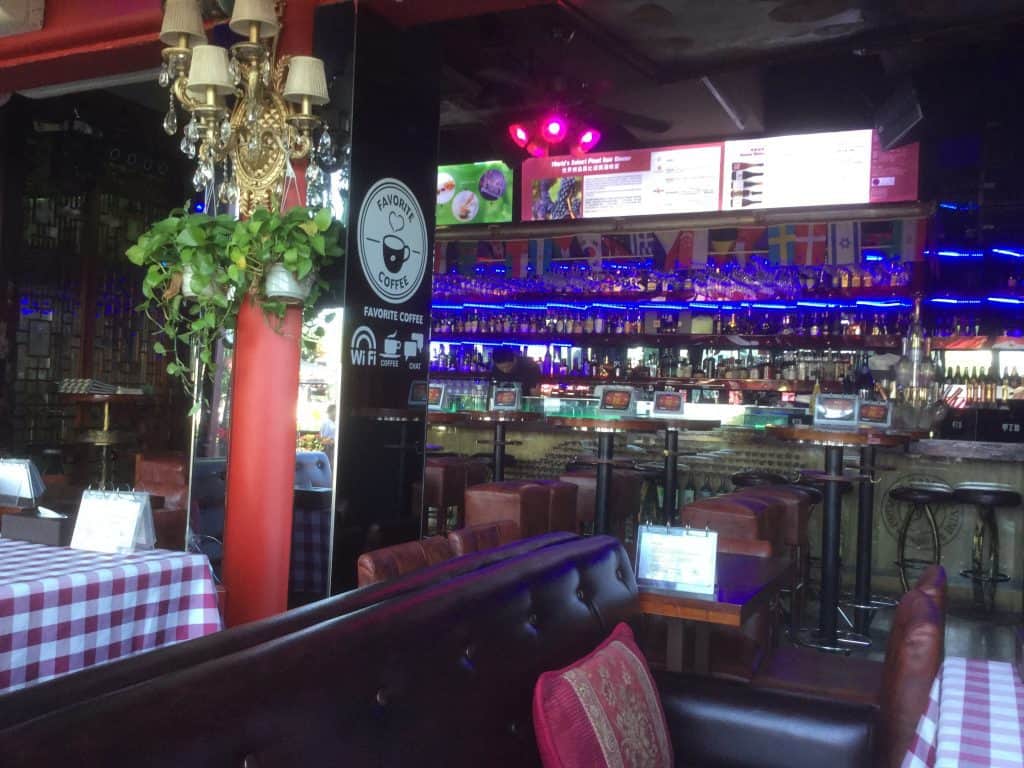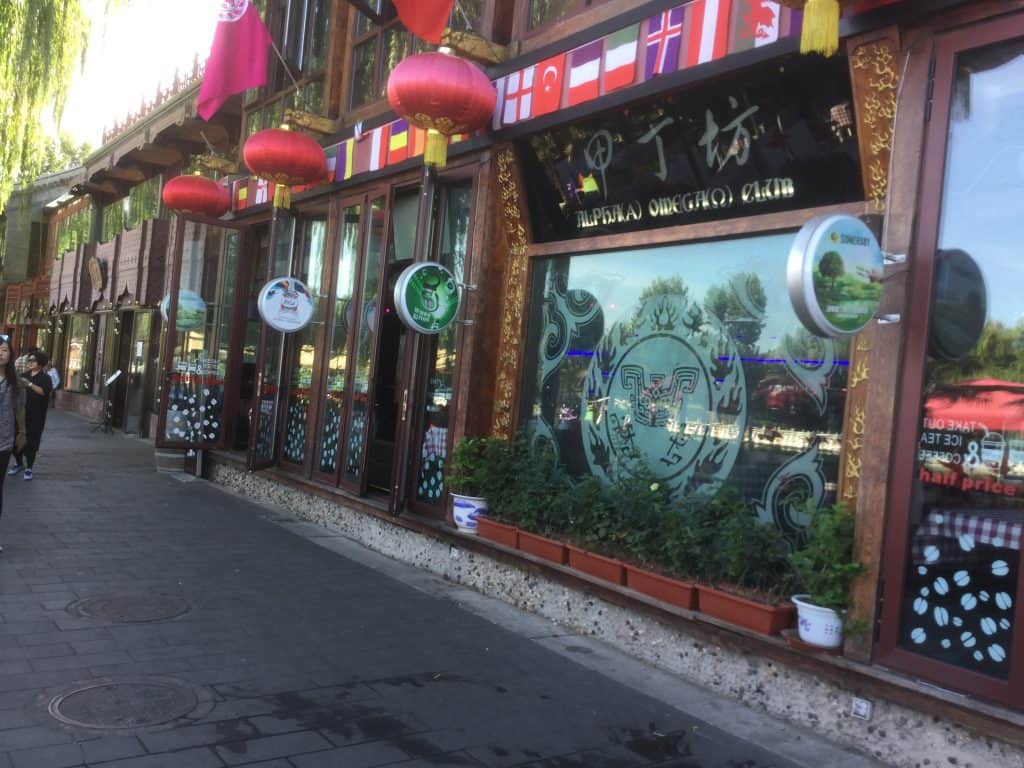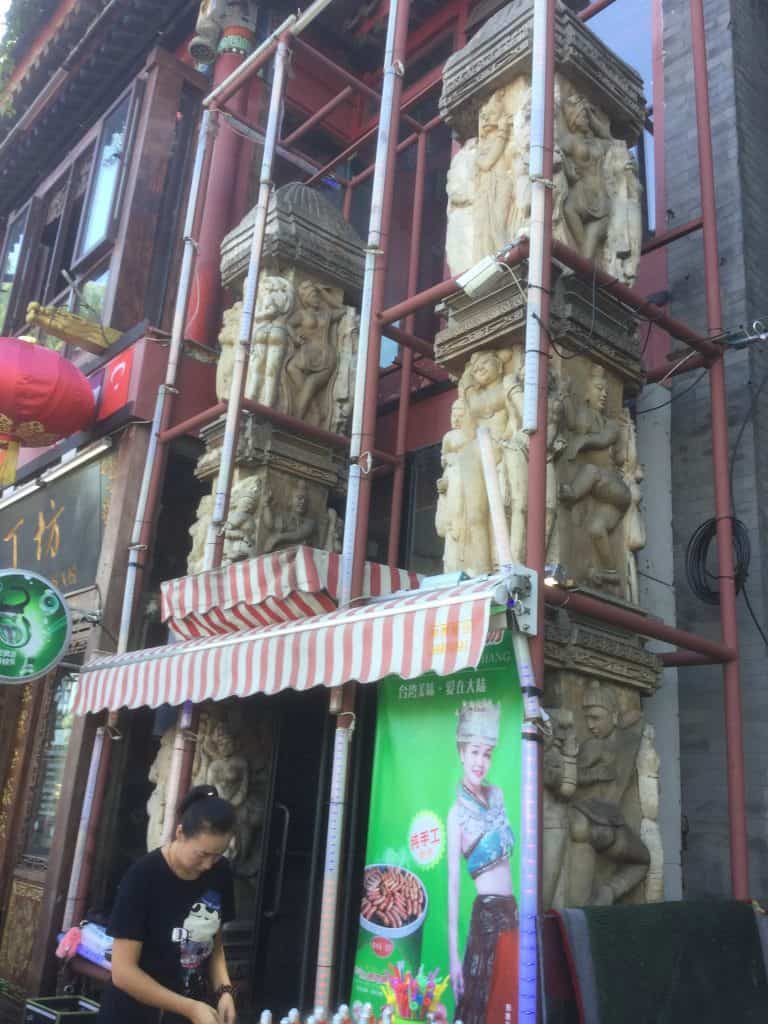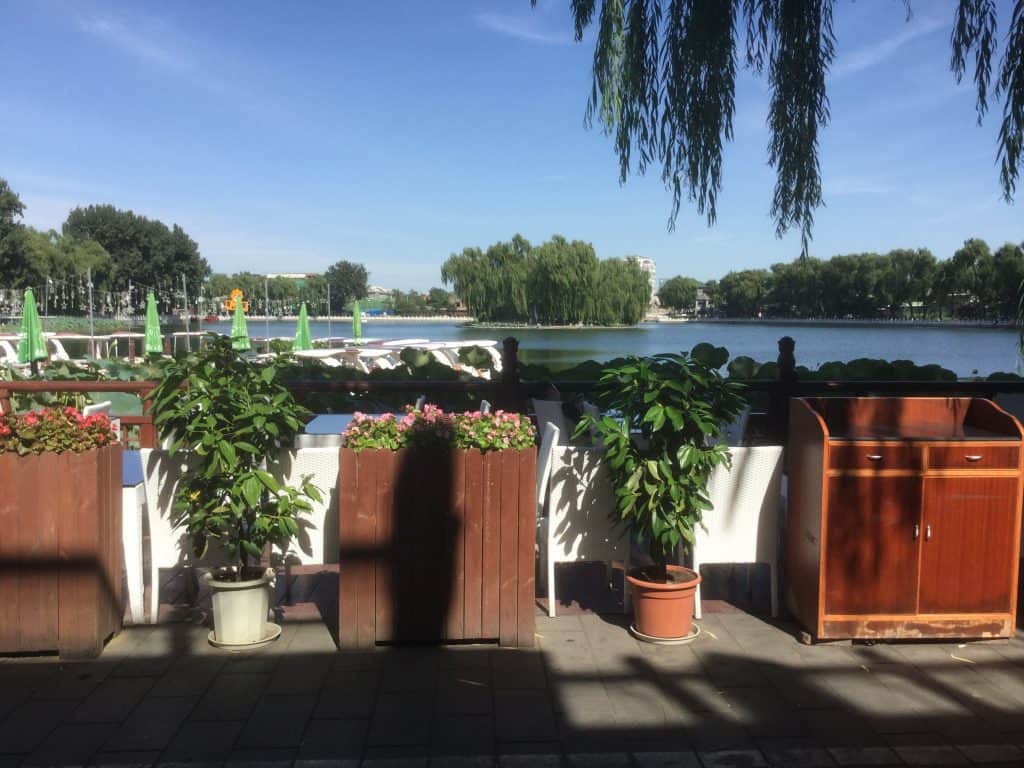 September 15 was Madison's 29th birthday. Egads! That was the age I met Nancy. But wait, there's more. September 15, 1986 was our first date and I was a "pup" of 29 and she was 33. I'm happy to report she's still four years older than I. Ask Nancy how she liked my driving on our first date! She lived in the Richmond district of San Francisco (My $450 studio, with parking, was on Russian Hill) where many Chinese live. I no doubt cursed and kvetched about Chinese drivers on Geary Blvd. as we headed into North Beach that fateful evening. I have truly come full-circle!
Yet again, I digress. I mentioned in a previous blog posting that I tried on a pair of sunglasses that Christopher had and I liked the look. He told me that he bought them at the famous Silk Street Market. This is a large building that houses many shops, most, if not all, specializing in counterfeit goods. So, yes, the glasses are "knock-offs" but given that all of my previous sunglasses are from the dollar store or free, from Zipcars (the green glasses seen above), I decided to go "all-in." With Madison accompanying me, off we went.
It wasn't exactly a consumer paradise. The arbitrary prices on the merchandise were quite high and I'm one of those persons who hates to haggling. In fact, there were signs all over indicating that the prices were set and no haggling was permitted. No doubt that caused some foreign suckers to pay way too much. We ended up in a store that had scads of "designer" glasses where I did in fact haggle. Madison is much better at it and she's not afraid to "beat up" the sales person, lucky for me. I ended up buying four pair, paying about 200 RMB each ($30). But wow! The quality, even for fakes is quite impressive. I will be quite sad when I inevitably lose or break them which is why I hate paying more than one dollar in the first place. Still, anything to improve my looks, however temporary, can't hurt. I did buy a pair for Madison but I kept imploring her to get something/anything else as it was her birthday. Evidently, she isn't a "shop till you drop" kind of gal.
So I decided that I would spare no expense for her birthday dinner. We took a short subway ride to one of the hottest areas for food and drink in Beijing: Sanlitun. It's the area where you'll to find most foreign embassies, westerners as well as eating and drinking establishments run by westerners, catering to westerners. Lots of brewpubs, pizza and taco joints, etc. Still, the vast majority of people in the area are Chinese. We went to Sanlitun Village which is a very high-end shopping plaza and noodled around looking for an interesting restaurant. After considering many options, Madison decided on a place that served food Benihana style. That is, chefs at stations, surrounded by patrons who they cooked for. So, the deal was, two hours of almost anything off the menu, including drinks and dessert for 318 RMB. Just over $45.00 each. Because it was Madison's birthday, they threw in a bottle of red Bordeaux. Let me tell you baby, we went crazy! It was non-stop eating for two hours. Gluttony on a scale unrivaled since I got here. I remarked at one point, how would we even know if something we ordered wasn't delivered, as we were ordering so many different things all at once. The next day, Madison actually remembered some dishes that we did order, but never arrived. Nevertheless, this was the best meal I've had since I came here. Most everything I ate was simply delicious. Sushi, oysters, lobster, crab, chicken, beef, lamb, dumplings, noodles, cat, you name it, we had it. I look forward to taking Nancy and Sophie here.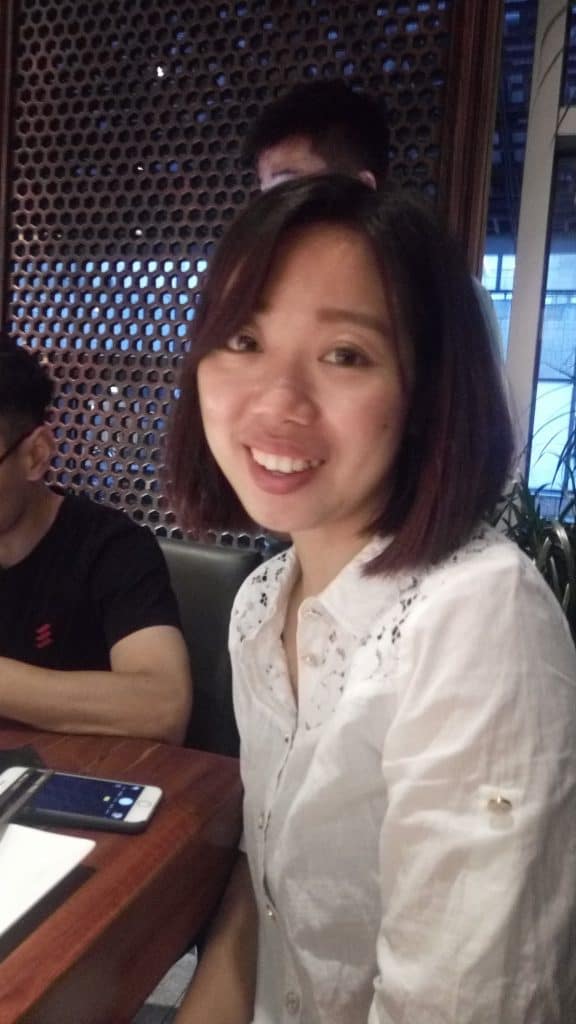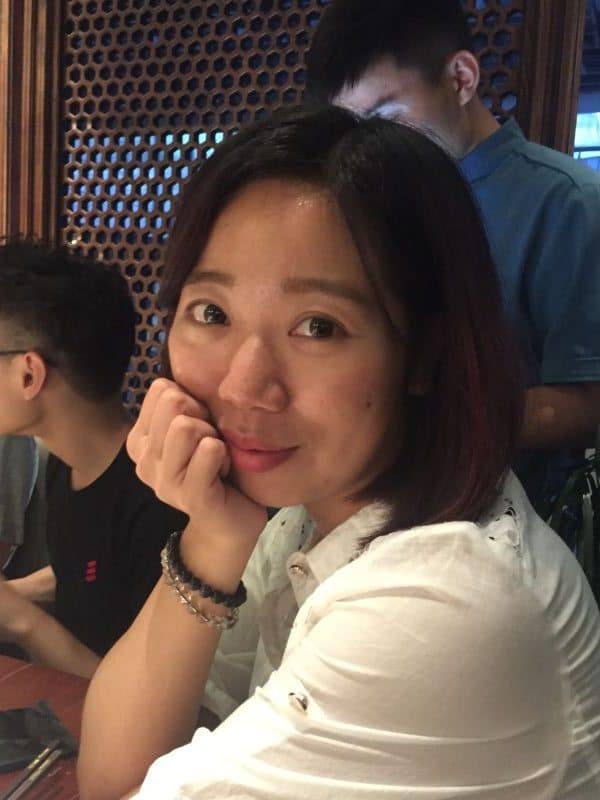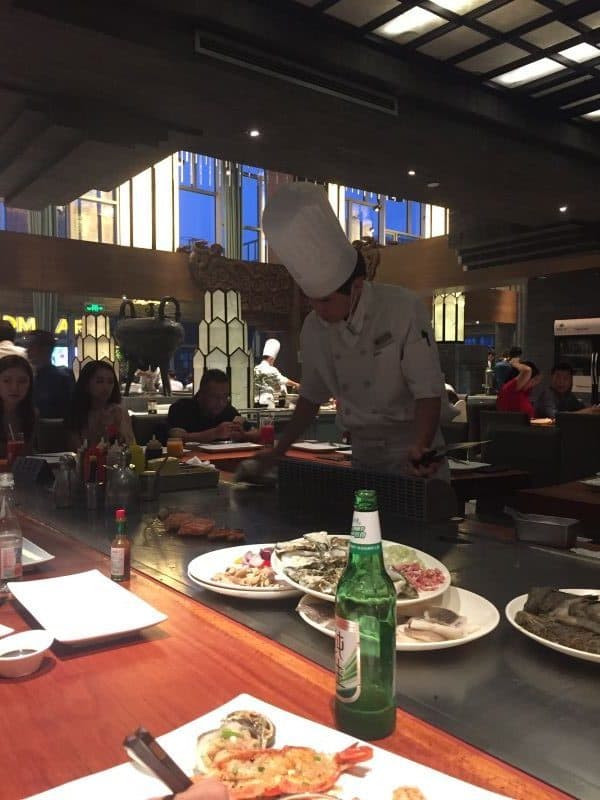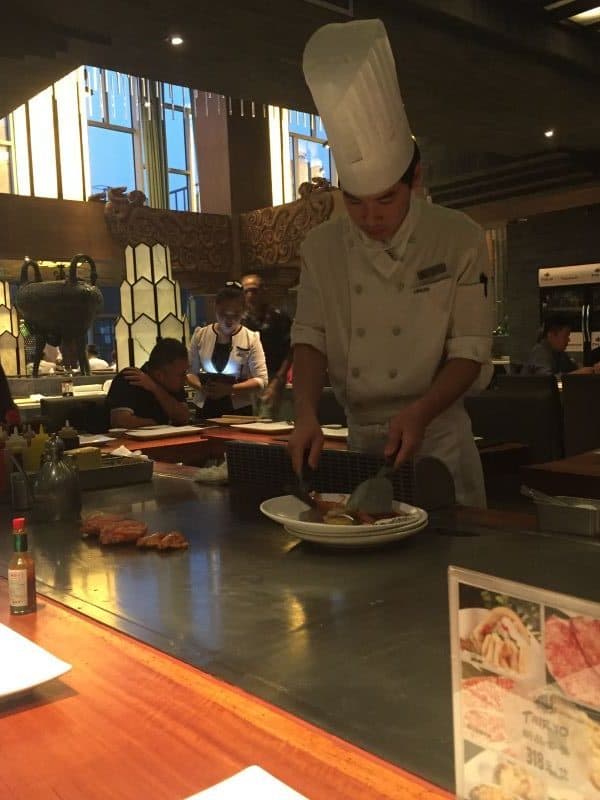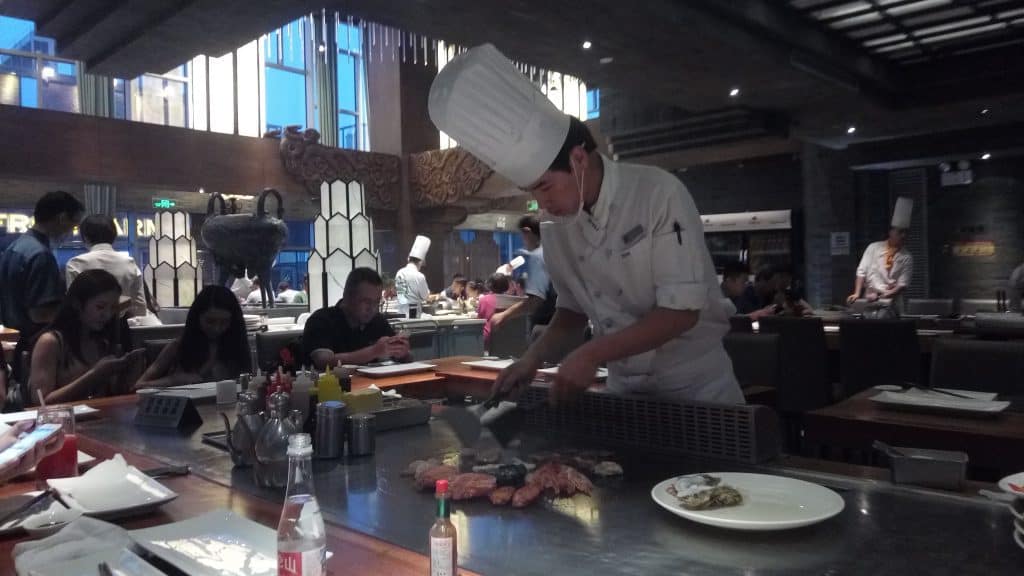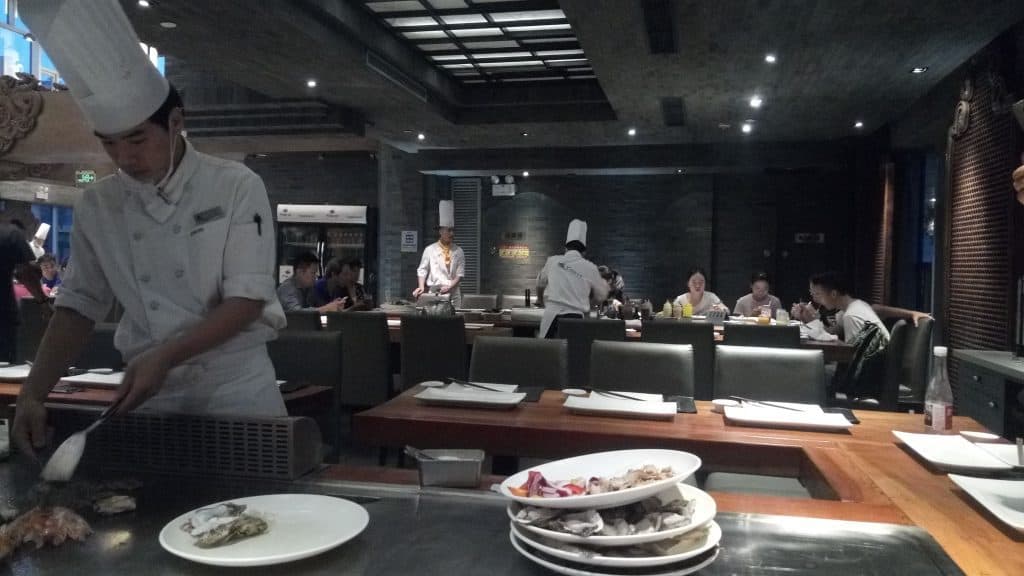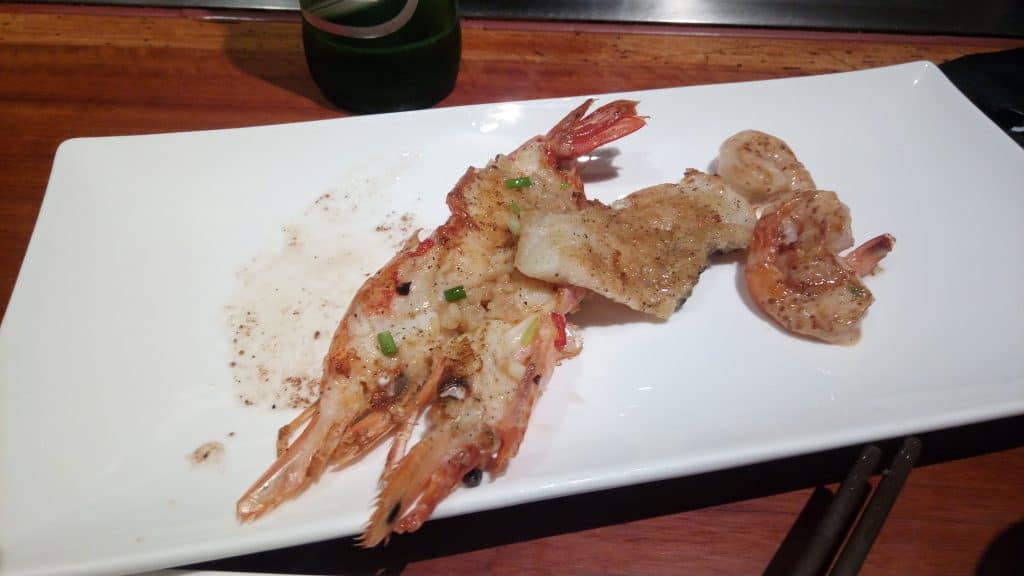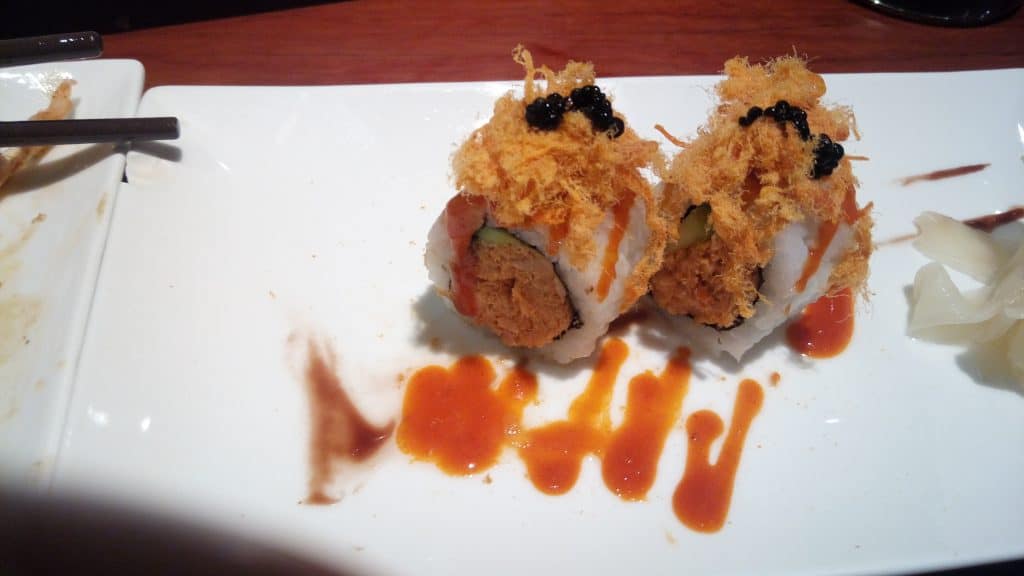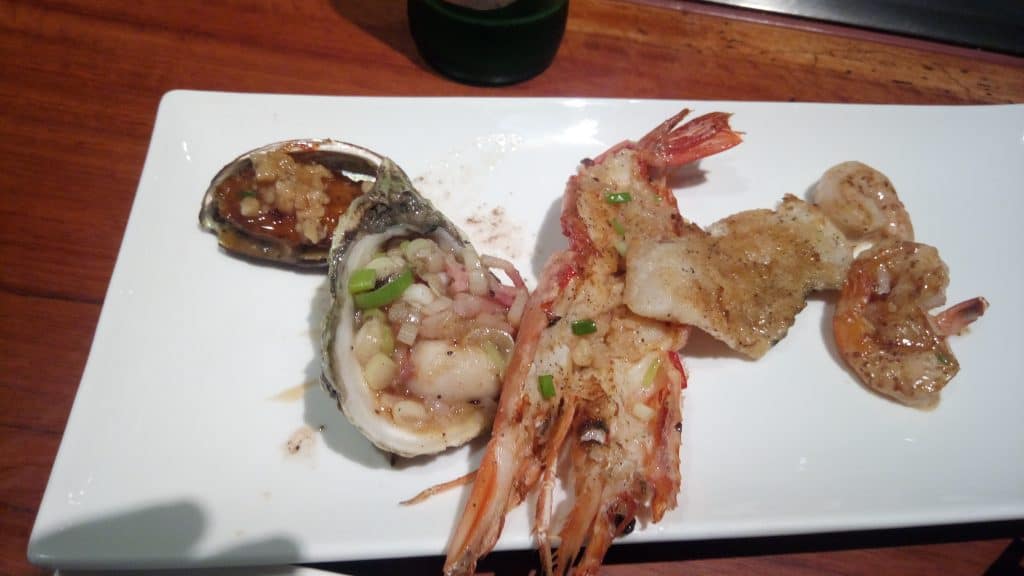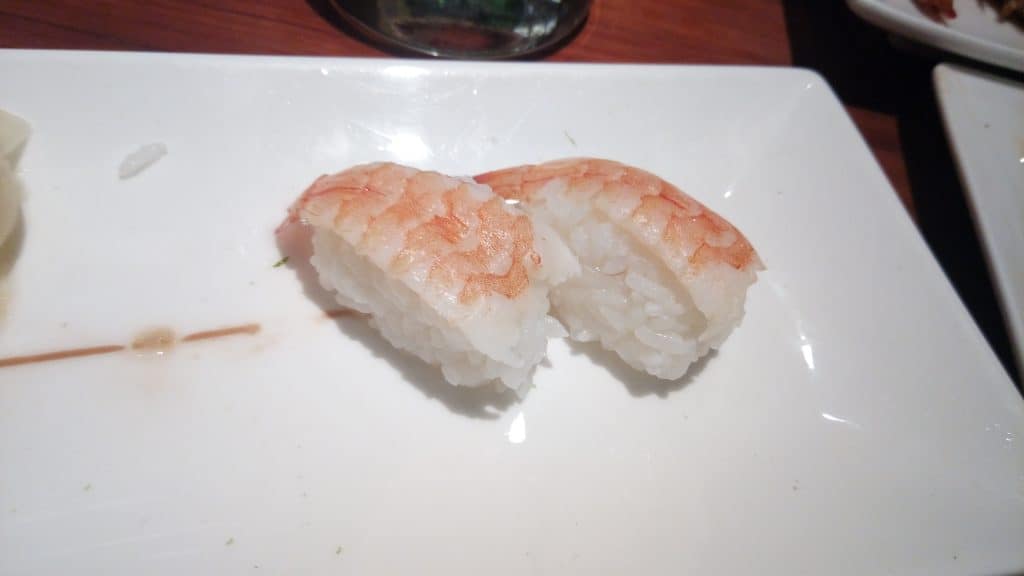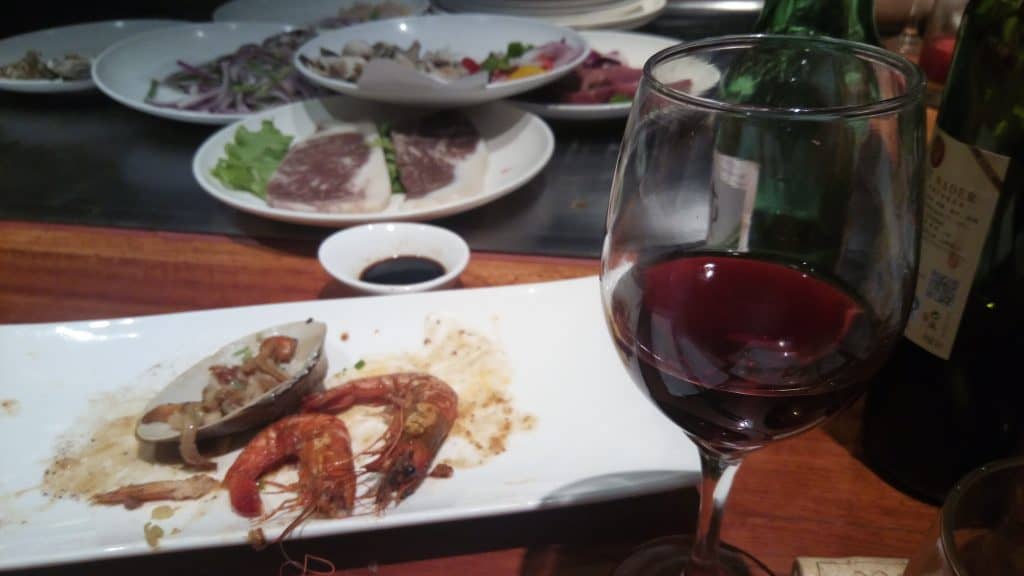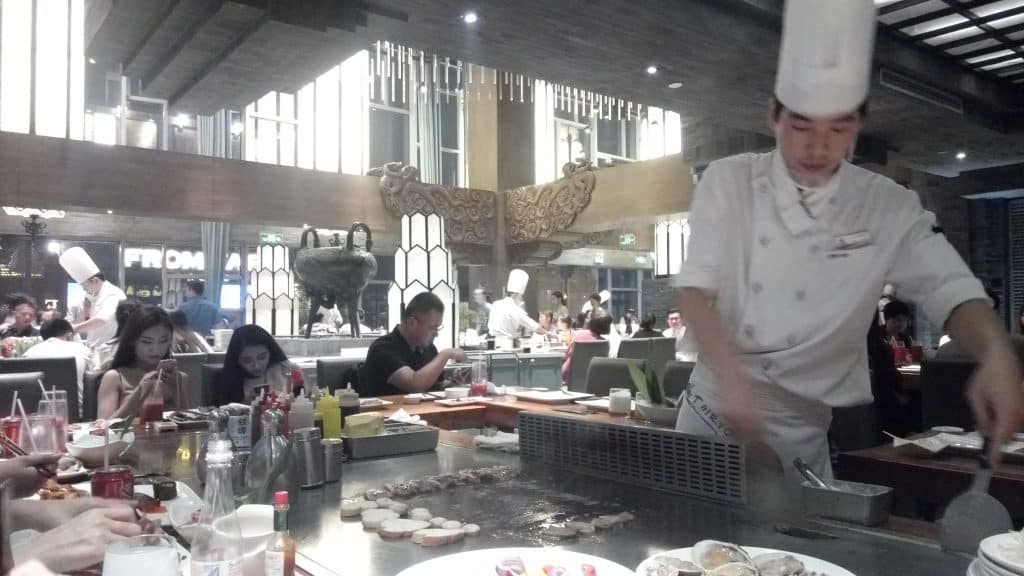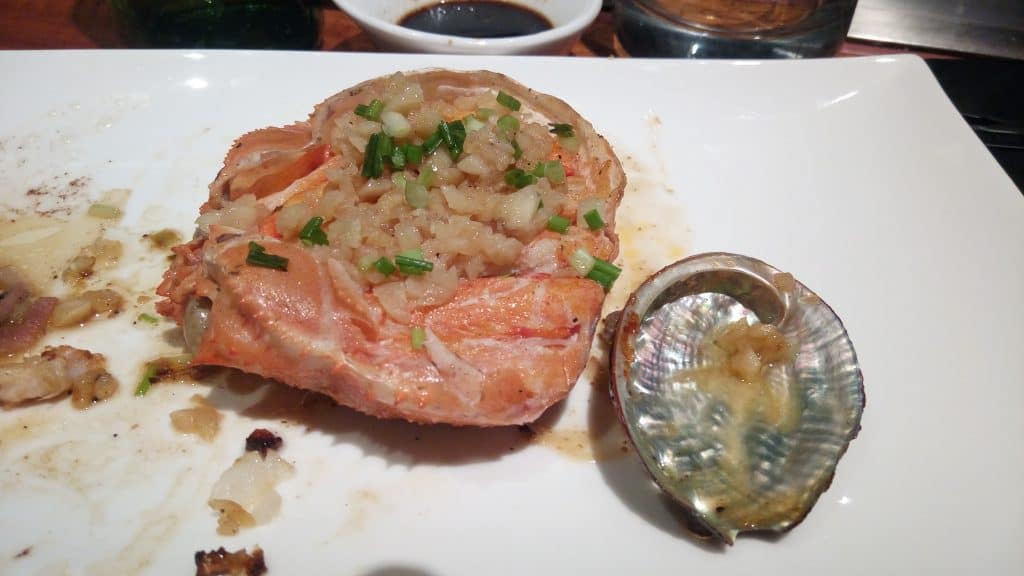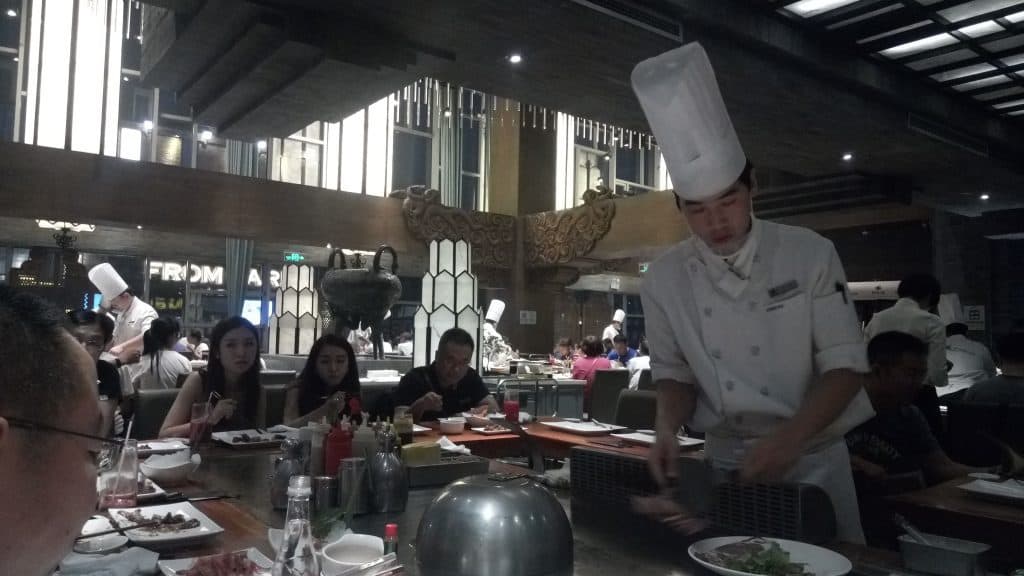 Afterward, we walked down the street to the dive-bar area of Sanlitun to a bar I visited earlier in the summer: Kokomo. It's a rooftop bar with a stunning vista of the surrounding area. It's directly across from the Intercontinental Hotel which is a tall building that is its own light show every night. That night, the light show was even more spectacular than when I saw it back in July. Our night together is one of the highlights of my living in China. So, thanks, Madison, for taking time to show this old man a splendid time!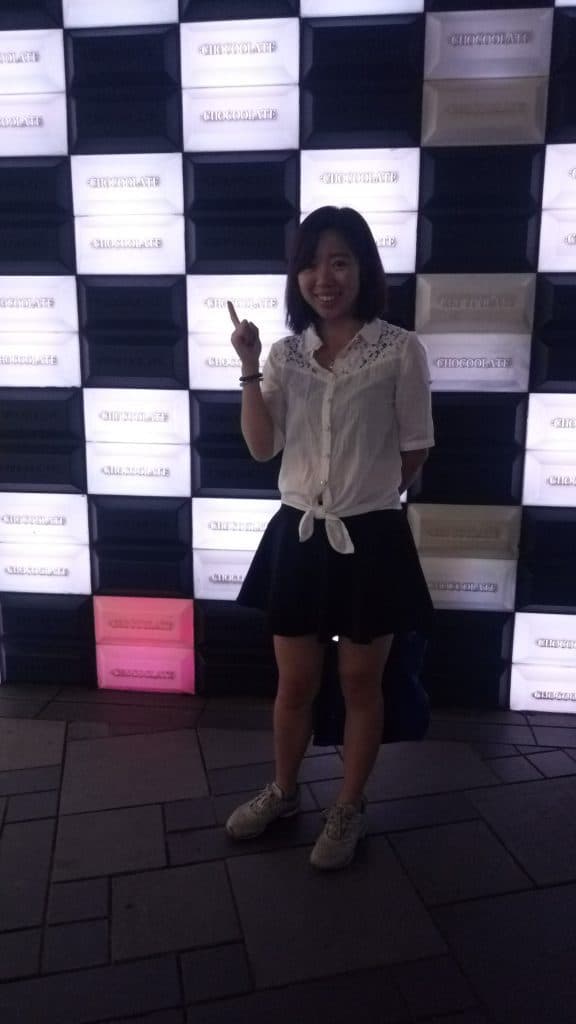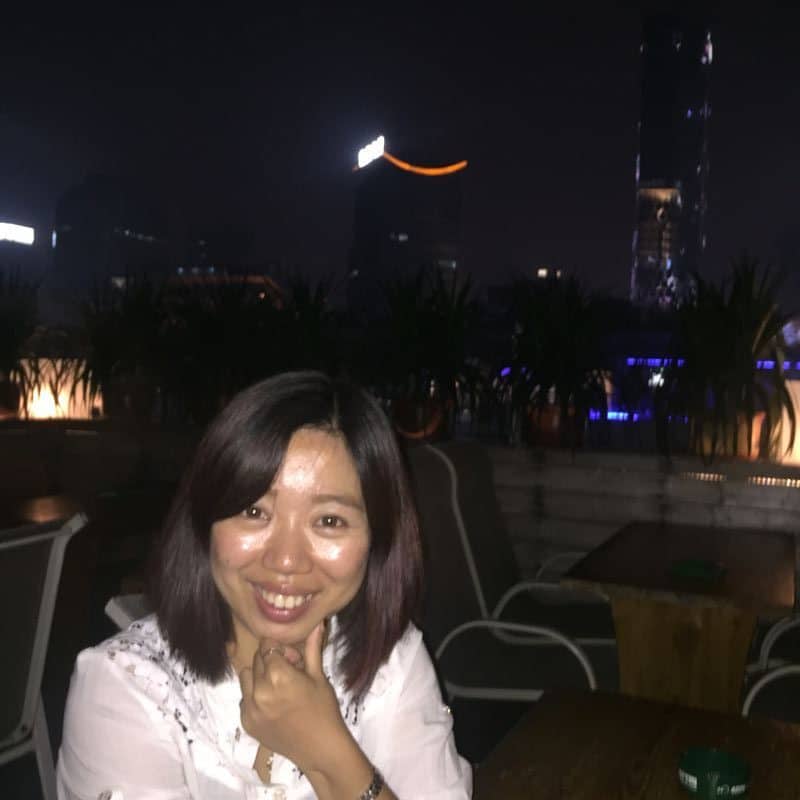 Madison is planning to go to New Zealand next year and will begin taking driving lessons because if you're in NZ, you need to drive to get around. Driving lessons in China? Seriously? Oh, right…She'll be going to the Chinese Driver Training Facility at Happy Valley (See, "Happy Valley Daze" posting.) Then, after "learning" to drive, she'll go to a country where they drive on the wrong side of the road. At least she'll be well prepared.
I will have to make due on my own for the next two weeks because Madison left on Friday to visit her family in Dalian which is a coastal city a few hours north of Beijing. Last night, on my own,I braved a restaurant in the neighborhood called "The Bridge" that I've been wanting to try. Belle took me to look at it a few weeks ago. It looks life a cafe right out of Noe Valley in San Francisco. It's on three levels including a rooftop deck. Lots of over-sized chairs, couches and a real western feel with a menu of salads, burgers, panini sandwiches, pastas, etc. I ordered a hamburger (two patties of god knows what) complete with a fried egg on top, passable fries and a SF style salad and included a drink. All for 35 RMB (about $6) It's the first true hamburger I've had since I arrived here in April. It was bland but serviceable and the atmosphere was reminiscent of the bay area until I looked out the window down below to see the chaos of one of the busiest intersections at rush-hour, known to mankind. Sorry, no photo at this time.
Next posting will be a lot shorter: My working title is: "Cuban's Attack!"